Complementarity Assessment Framework (COMPASS)
2023년 9월부터 EP(싱가포르 취업비자) 신청을 위해 2022년 9월1일부터 상향된 급여 기준에 더해 새로 점수제(Compass)가 도입되어 충족된 점수를 받아야 신청이 가능
EP연장의 경우 2024년 9월 1일부터 점수제(Compass)기준 적용
자세한 사항은 아래 참조바라며 세부사항은 2022년 12월부터 순차적으로 발표예정
In addition to meeting the qualifying salary, EP candidates must pass a points-based Complementarity Assessment Framework (COMPASS) from 1 September 2023.
COMPASS enables employers to select high-quality foreign professionals, while improving workforce diversity and building a strong Singaporean core. It is a transparent system that gives businesses greater clarity and certainty for manpower planning.
COMPASS will apply to:
New applications from 1 September 2023

Renewals from 1 September 2024
More details on the COMPASS criteria and assessment tools will be progressively released to help businesses prepare for the rollout.
How COMPASS works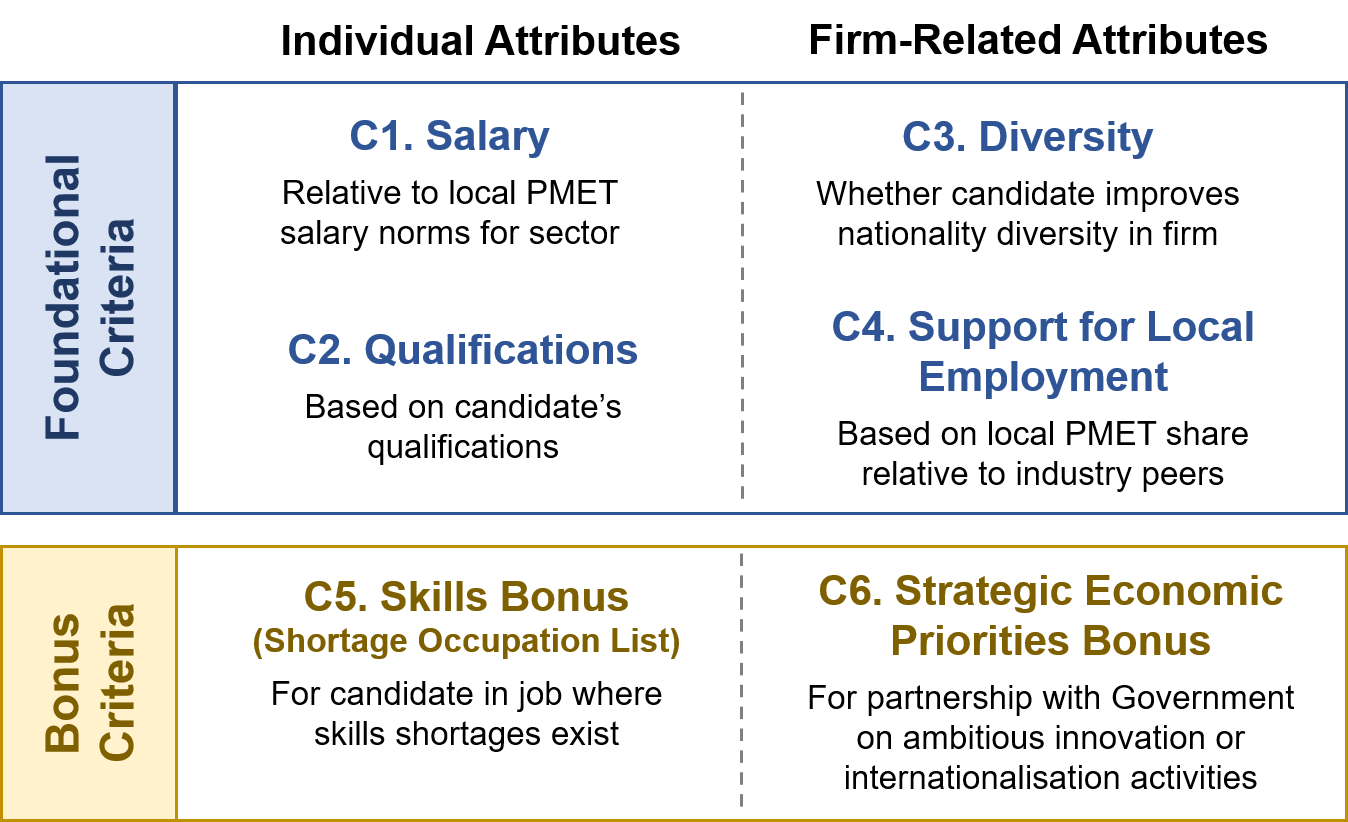 COMPASS evaluates EP applications based on a holistic set of individual and firm-related attributes.
Your application is scored on four foundational criteria. Applications earn points if they meet or exceed expectations.
| | |
| --- | --- |
| Points for each foundational criterion | Assessment |
| 20 | Exceeds expectations |
| 10 | Meets expectations |
| 0 | Does not meet expectations |
Your application can also earn additional points on bonus criteria if it meets the relevant qualifying conditions. These criteria recognise applications that bring in skills in shortage and support strategic economic priorities, thus creating good jobs for Singaporeans.
40 points are required to pass COMPASS:
Applications that meet expectations (earn 10 points) on all 4 foundational criteria will pass (Example A-1 and Example A-2).
COMPASS scoring
The table below summarises how points are earned.
Passing score: 40 points
Foundational criteria

Points

C1. Salary (Individual)


Fixed monthly salary compared to local PMET salaries in sector by age

20

65th to < 90th percentile

10

0

C2. Qualification (Individual)


Based on candidate's qualifications

20

Degree-equivalent qualification

10

No degree-equivalent qualification

0

C3. Diversity (Firm-related)
Share of candidate's nationality among firm's PMETs.*

20

10

0

C4. Support for local employment (Firm-related)
Firm's share of local PMETs within its subsector*

20

20th to < 50th percentile

10

0

Bonus criteria
C5. Skills Bonus – Shortage Occupation List (Individual)

Job on the Shortage Occupation List

+20#
C6. Strategic Economic Priorities Bonus (Firm-related)

Firm meets specific assessment criteria on innovation or internationalisation activities

+10
# Skills bonus is reduced to +10 if the share of candidate's nationality among the firm's PMETs is one-third or higher.
* Small firms with fewer than 25 PMET employees score 10 points on C3 and C4 by default. PMETs are proxied by employees earning at least $3,000 per month.
Exemption from COMPASS
Your candidate is exempted from COMPASS if they fufill any of these conditions:
<More details>
Details

Timeline for release

Additional information on foundational criteria, including:

December 2022

Additional information on bonus criteria, including:

March 2023

Pre-Assessment Tool


Indicative outcome, including COMPASS score, for each EP application

September 2023
출처: 싱가포르 고용노동부 (Complementarity Assessment Framework (COMPASS) (mom.gov.sg)